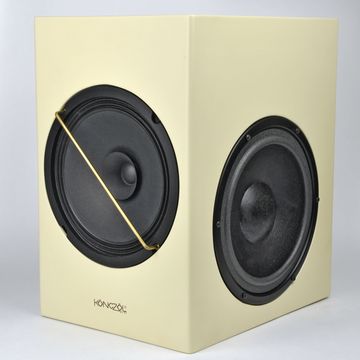 Product details
For the development of Lala broadband speaker I chose the German-made Visaton speaker with excellent parameters.
I kept the resonance frequency low (38Hz) with the help of a tuned passive membrane despite of the relatively small box volume.
However, the most important aspect was the precise display of the stereo sound which can only be achieved with the usage of a one-way speaker.
The sound of the musicians, the solo-singers, the choir and the different instruments are high-fidelity, always true to appear on the imaginary stage.
I recommend this product to every music lover for whom these aspects above are crucial.
 
Parameters
Frequency range:
38–18000 Hz
Acoustic sensitivity:
91 dB
Nominal output:
40 W
Maximum output:
70 W
Impedance:
8 Ω
 
Width/depth/height:
23/30/35 cm
Weight:
7,9 kg/piece